Transforming London's Architectural Landscape: Luxury Adaptive Reuse and Retrofitting Residential Projects
As land availability diminishes, the practice of repurposing existing structures has gained remarkable momentum in London. Architects, interior designers, and construction companies are joining forces to breathe new life into old buildings, converting them into luxurious, functional homes. In this article, we will explore the burgeoning trend of adaptive reuse and retrofitting in London, with a focus on high-end residential projects ranging from £200,000 to £900,000. Join us as we showcase Dobuild's expertise in transforming old structures into exquisite, bespoke living spaces.
The Rising Demand for Adaptive Reuse and Retrofitting:
With limited available land in London, the demand for adaptive reuse and retrofitting projects has skyrocketed. Homeowners and developers seek innovative solutions to create unique, high-end residences while preserving the city's architectural heritage. By repurposing existing structures, architects and interior designers can craft exceptional living spaces that combine modern luxury with the character of the past.
Collaborating with Experts in Luxury Construction:
Dobuild, a chartered building company renowned for its expertise in high-end construction, is at the forefront of transforming London's architectural landscape. With a portfolio of successful London projects, they have established themselves as a trusted partner for architects and interior designers seeking excellence in adaptive reuse and retrofitting. Their meticulous attention to detail and commitment to quality ensure that every project meets the highest standards.
Case Studies: Inspiring Luxury Adaptive Reuse and Retrofitting Projects
Dobuild undertook the transformation of a historic Georgian townhouse into an opulent residence. By preserving the original architectural elements while integrating modern amenities, we created a harmonious blend of classic elegance and contemporary luxury. The project included exquisite interior design, bespoke craftsmanship, and state-of-the-art technology, resulting in a stunning home valued at £1,400,000. The 1960's terrace home was typical of the design and layout of the era, it was in need of some updating and refurbishment. The brief was to create a light and bright ground floor, with a social kitchen and critically a living room area that could be separated.  The owner is very creative, with a background in fashion design, the ability to create an inspiring space within her home to paint, connected with nature became an additional requirement for the project.
Due to local building restrictions, extending physically would be difficult, we looked instead to covert the internal garage and integrate that space within the home. This allowed us to open up the space to create a large open plan kitchen and living area, with a large skylight placed above and glazing into the garden, creating a welcoming and bright space.
The refurbishment has been completed with a nod to the mid-century roots of the property, in muted colour pallet to create a calm and modern home. We introduced a corner of full height glazing on the ground floor to creates a dedicated space with room for an easel, allowing the owner to work with 180-degree views of the garden, immersed in the natural world. A separate family area / snug has been created adjacent to the kitchen dining space. A contemporary pocket sliding door provides flexibility, allowing the space to be closed off or left open and integrated into the ground floor as required.
To create a more intimate space the architect selected darker, warmer colours and we installed a high-level window to bring in natural daylight without losing privacy.  To ensure the open plan design of the ground floor had some additional elements of privacy and again referencing the mid-century origins of the building, we installed bespoke joinery partitions between zones. The open wood frame allows light to transfer between areas and frames views through the house.
Additionally, on the ground floor we were able to add a new guest bedroom / home office with bathroom, adding additional flexibility to the space that will satisfy the family's need long into the future.
Dobuild successfully renovated this Victorian townhouse in Chelsea, London, with an extensive refurbishment to bring back the glory of past eras. Embracing the Victorian character of the building, they created an open-plan living space with soaring ceilings, exposed brickwork, and large windows, flooding the interiors with natural light.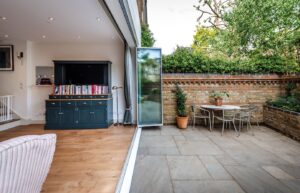 A large open-plan kitchen connects to the garden with glazed sliding doors
We always work closely with our client and architect to ensure the smooth running of a project.
As the home was in need of adaptations and alterations to the electrical layouts, we took the opportunity to complete a full house refurbishment with new floor finishes and decoration. The windows were replaced and upgraded to increase the sustainability of the home while also being in keeping with the classical house style.
The project took nine months to complete, without any serious delays to the build timescales. The finished project is now a home finished in a distinctive classical style, with all the room the family could need.
The project showcased their ability to seamlessly blend modern design elements with the building's original features, resulting in a high-end residence valued at £3,500,000.
Exquisite Craftsmanship and Attention to Detail
Dobuild's commitment to fine construction is evident in every aspect of their high-end adaptive reuse and retrofitting projects. They collaborate closely with interior designers to ensure that each space exudes luxury, sophistication, and functionality. From meticulously crafted bespoke cabinetry to carefully curated materials and finishes, Dobuild's attention to detail elevates each project to the pinnacle of high-end residential design.
Transforming Your Vision into Reality
If you have a vision for a high-end adaptive reuse or retrofitting project in London, collaborating with Dobuild can turn that vision into a breathtaking reality. Their team of skilled professionals will guide you through the entire process, from conceptualization to completion, ensuring that your project exceeds expectations and reflects your unique style and aspirations.
Conclusion
As London's available land becomes increasingly scarce, the practice of adaptive reuse and retrofitting has become essential in creating high-end residential spaces. Dobuild, a leading chartered building company, is spearheading this movement, transforming old structures into luxurious, bespoke homes. With their expertise in high-end construction and meticulous attention to detail, Dobuild ensures that each project showcases the perfect balance of architectural heritage and contemporary luxury. If you are seeking a remarkable living space in London, explore the possibilities of high-end adaptive reuse and retrofitting with Dobuild.