Thinking of moving but horrified by the cost? Ever considered a house renovation to create the home you need instead? With the average London terrace coming in at just under £700,000, you're looking at a whopping £25,000 on stamp duty alone. If your home's worth around £1.5 million you're looking at paying stamp duty of over £90,000. That's even before all the other expenses of moving.
A carefully planned out house renovation can increase space, increase the value of your property and create something truly special. That's why savvy Londoners are choosing to put their money into remodelling and renovating their homes, transforming them into the living spaces they truly want. And with smart technology you can lower the running costs of your property too. What's not to like?
As an experienced, quality specialist in house renovation in London you can't do better than us to oversee and deliver your house renovation project. We offer a unique, 360 degree, hassle-free, fully transparent service, delivering your high-end product at a competitive price.
DOBUILD'S HOUSE RENOVATION TEAM IN LONDON
Our expert, fully-integrated house renovation team bring their broad knowledge base to work collaboratively on your house refurbishment project from the very beginning. You are guaranteed:
Top-notch architectural designs
In-house structural engineer overseeing your house renovation
Broad expertise bringing cost-effective, optimised design
Detailed cost breakdown
Guaranteed, fixed-price quote from the outset – so no spiralling costs and no surprises!
Appropriate planning application (if applicable) from experienced hands in house renovation in London
Expert project management: on-time delivery, and resource optimisation
All works completed to British Standards
Insurance and Guarantees: DoBuild holds public liability insurance, and an all-risks cover, to protect you and our builders. We offer a 15-year warranty on all structural work
Fully integrated house renovation team working closely together
Full transparency – follow the on-site progress of your project online through videos and photos as they are updated each week; view milestones and percentage of work complete, and monitor cashflow
A high-end product at a competitive price.
DESIGN
In-house structural engineer closely involved in all technical aspects of your house renovation design
Creative concept design
Professional architectural drawings
Hassle-free planning permission (if applicable)
All your building registrations done for you.
BUILD PHASE
Most reliable house renovation contractor in London
Structural professionals to oversee your project
Only the best hands at every stage.
PROJECT MANAGEMENT
Professional project management is absolutely crucial to success. With DoBuild, your house renovation project will have a dedicated and experienced project manager who will be your key contact throughout. He will be responsible for all aspects of your project, from delivering the design and scheduling, to supervising the works. You will be able to meet him regularly on site and communicate with him online. You can be sure you have:
An Expert who always takes the initiative in handling tasks to oversee your house renovation project
Effective time management, ensuring every aspect of your project is delivered on schedule
Proper finance management to ensure you get the best service
Appropriate health and safety protocols in place
TRANSPARENCY
Stay in charge and monitor your project online:
Follow the on-site progress of your house renovation project through videos and photos as they are updated each week
View milestones and percentage of work complete
Monitor cashflow.
Site Visit
We offer a cost and obligation-free consultation and evaluation. This includes a site visit to evaluate the possibilities of the site and learn more about your vision and what you want from your house renovation project. You can let us know exactly what you want in terms of function, themes, colours, features and layout. You will have the opportunity to browse our portfolio of completed kitchen renovations, bathroom renovations, house renovations, house refurbishments and house remodelling projects in London to help crystallise your ideas. We'll discuss your budget and any relevant planning laws and talk you through the process involved so that you can make an informed decision on whether to go ahead with the project.
Feasibility Analysis
If you don't have a concrete idea of exactly what you want or you simply want to assess your options, our comprehensive feasibility analysis is here to help. It will outline which of the many house renovation options are open to you for your particular property. This allows you to see exactly how much additional space you can create, and how you can optimise the use of space you already have. You can compare benefits and costs of the different house renovation options and make the right choice for what will work best for you.
Surveying
If your house renovation involves structural alterations, certain surveys of the site may need to be done. These establish things like exact site dimensions, location of load-bearing walls, position of drains and any trees which might impact on the design. These will inform the technical side of your house renovation and may need to be included with a planning application.
Design Brief
At this stage, our architect will begin producing concept designs and sketches to bring your ideas to life. Now you can make choices of materials, fixtures, fittings and finishes. You'll also have the opportunity to see what the house renovation design will look like in 3D and experience what the space will feel like in a virtual 3D walkthrough. If you see something you would like to change – no problem! We will work on the designs with you until you are 100% happy.
Planning Permission
If your house renovation includes structural alterations to the existing property, it may be necessary to apply for planning permission. As one of the leading house renovation contractors in London and the Greater London area, we understand the planning process inside-out. We will advise you of any restrictions relating to your house or area at the outset and these will inform the design of your house renovation. We will draw up and submit all the necessary documents and drawings to your local council authority on your behalf.
Estimation and Budgeting
Once the design and finishes are agreed, our architect will produce all the technical drawings for your house renovation and our quantity surveyor will cost up the project for you. You'll receive a guaranteed, fully itemised, fixed-price quote.
Construction
To ensure a seamless build, your dedicated project manager will draw up and manage a detailed program so that the right people, tools and materials are on-site at the right time at each stage.
Handover and Close out
Once the house renovation is complete, our team will go over it with a fine-tooth comb to ensure that everything has been finished to the highest standard. Now you can enjoy the realisation of your vision – engineered to perfection and delivered on-time, on-budget and defect-free.
RENOVATING OR REMODELLING – WHAT'S THE DIFFERENCE?
Although 'renovate' and 'remodel' are often used interchangeably, they do have different meanings. Renovation generally means modernising, revitalising or restoring to its original state. Remodelling usually involves improving layout, reassigning the function of different spaces, and possibly extending the existing space. In practice, most renovation projects combine the two – returning attractive features of the house to their former glory while making the layout more attractive for modern-day living.
TYPES OF HOUSE RENOVATION
Whatever the size of your house renovation project in London, you can't do better than trust DoBuild to deliver a superlative result. No house renovation, house refurbishment or house remodelling project is too big or too small. We have experience in:
Kitchen renovations
Bathroom renovations
Rear and side extensions
Loft conversions
Basement conversions
Under-garden extensions
Exterior house makeovers
Full house renovation, house refurbishment and house remodelling
AM I ELIGIBLE FOR A HOUSE RENOVATION GRANT?
We can check whether you are eligible for any grants that might apply to the house renovation work you want to carry out at a local and national level. We can also check whether you are entitled to any VAT concessions.
PLANNING REQUIREMENTS FOR A HOUSE RENOVATION IN LONDON
As one of the leading house renovation contractors in London and the Greater London area, we understand the planning process inside-out. We will advise you of any restrictions relating to your house and area, and your planned house renovation at the outset and these will inform the design. We will draw up and submit all the necessary documents and drawings to the relevant authorities on your behalf including:
planning permission
building regulations approval
Party wall agreements
listed building consent
HOW MUCH WILL A HOUSE RENOVATION COST?
The house renovation cost or house refurbishment cost will very much depend on what the project includes and the finishes you want. However, as a guideline you can expect your house renovation cost to be from around £1,250 per square metre. You can learn more about the cost of renovating your house in London here.
CASE STUDY – CHELSEA KITCHEN RENOVATION
In this London kitchen renovation, our client wanted to create a zonal kitchen scheme that was not restricted by four walls. A keen cook, and frequent entertainer, he wanted his kitchen to have a perfect blend of form, function and technology. He opted for a handleless kitchen to give a sleek, contemporary, streamlined look which he contrasted with a split-face marble mosaic to add a Scandinavian vibe and a bit of luxury. The whole effect is an ultra-modern look with a featured standout finish to add a talking point to the design.
Lighting is controlled via a mobile app on his phone, allowing the recessed spots on the ceiling to be faded out, and concealed architectural mood lighting to transform the ambience from bright functional kitchen to a more intimate mood for a dinner party or romantic meal for two.
CASE STUDY – CHELSEA BATHROOM RENOVATION
Technology is harnessed again in this bathroom renovation at the same property which uses different forms of lighting to transform it from bright functional space to luxurious chill-out zone as the mood dictates.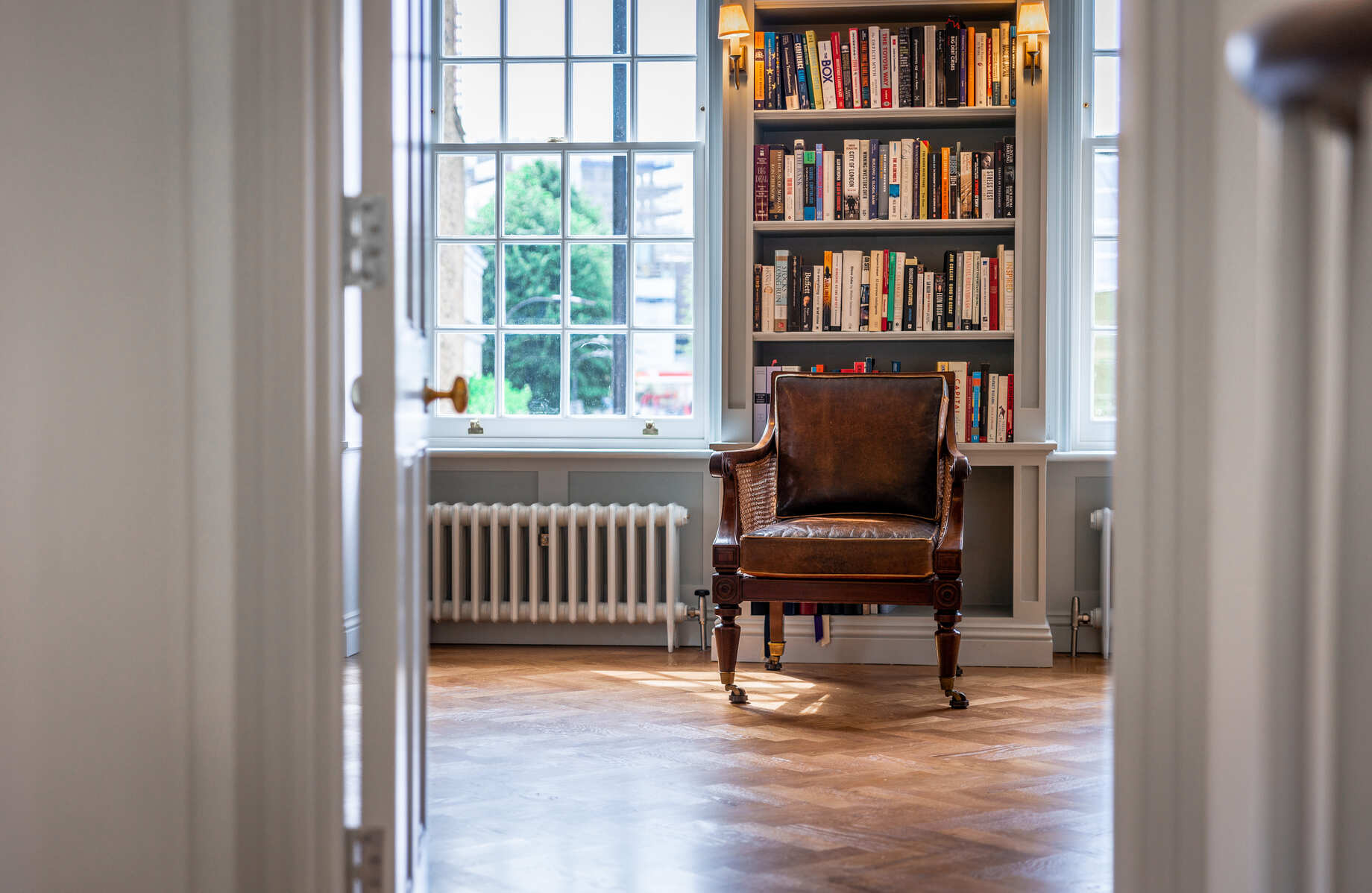 About your project
Should you wish to talk to us about an upcoming project, we would be delighted to hear from you
email us