WHAT IS A BASEMENT CONVERSION?
Can't extend outwards or upwards? Why not downwards? If you are a space-cramped, home-owning Londoner, you will know that space is at a premium in the capital. Carving out additional square footage through basement conversion can bring you a valuable asset. With modern technology, waterproofing and damp-proofing your basement are no longer a problem. This means you can convert your basement for almost any purpose you can think of.
Uses for a Basement Extension
There are a thousand and one uses for a basement extension or cellar conversion in London. The sky's no longer the limit! Whether you want to relocate a kitchen, build a home gym, or you need a secure place to park the Ferrari, we can answer your needs. You can have a separate entrance or even a concealed entrance. You can have single or multiple use, or pre-plan use-change over time. For example, you might want a children's playroom which can later morph into a safe venue for teens to hangout and ultimately a cave apartment to let or sell. There are endless possibilities. Here are just a few reasons why Londoners are digging deep:
Reorganise living space: TV dens and children's playrooms, utility and storage areas – relocating these underground can transform upstairs. A basement conversion is a chance to rescue your toy-strewn dining room and remodel it as a spacious kitchen-diner
Additional accommodation: Maybe you want a guest or granny annexe, or a cave apartment to let or sell
Working from home: A basement conversion can house a home office, study, studio, treatment room or cottage industry workspace and can even have a separate entrance
Entertainment: Perhaps you'd like a home cinema or dedicated game zone?
Leisure: Why not pop 'down' rather than 'out' to the gym, swimming pool or sauna?
Hobby: A basement is a perfect spot to house a workshop, home brewery or recording studio
Protect your investment: A basement conversion can house a wine cellar or provide an environmentally controlled space for precious collectables
Secure space: Maybe you want a safe room or need secure parking for your classic car
Whatever your need, if you are thinking of building a basement, DoBuild will bring you the most efficient, cost-effective, attractive solution.
SPECIFIC ISSUES RELATING TO BASEMENT CONVERSION AND CELLAR EXCAVATION IN LONDON
Planning Permission
There are specific issues to consider when applying for planning permission for a basement conversion in London. While historically, basement conversion has often come under permitted development which doesn't require planning permission, the recent basement boom in London has led to certain restrictions coming in to play in certain boroughs.
Party Wall Act
Many basement extensions require some excavation. Basement conversions in London will often require excavating under or near a party wall. Under the Party Wall Act, you are legally required to inform your neighbours that your project will involve excavation under or near your shared party wall. You will usually need to gain their consent. We will advise you on how best to go about this.
Waterproofing and Tanking
Basement Waterproofing
With the high rainfall we experience in the UK, effective damp proofing of any basement or cellar conversion in London is crucial. As a leading basement construction specialist in London, we can talk you through the various waterproofing options available, including systems designed for areas liable to flooding. All systems we use come with extensive warranties. The system we usually use comes with 100% guarantee of no water penetration.
Basement Tanking
Although 'tanking' is casually used to describe any type of waterproofing, it specifically refers to Type A Barrier Protection (BS 8102) systems which employ a barrier to prevent water from entering a structure.
DIFFERENT TYPES OF BASEMENT CONVERSION: SHELL AND CORE VS FIT OUT
Shell and Core
Shell and Core refers to the establishment of the infrastructure of a basement excavation. The party wall may need to be underpinned and a reinforced, damp-proof shell installed.
Fit Out
Once the infrastructure has been built, we get into the more conventional aspects of a build: Plumbing, heating, wiring, layout, fixtures and finishes.
DOBUILD'S BASEMENT CONVERSION TEAM IN LONDON
Because of the specific issues surrounding a basement excavation or conversion in London, it requires a basement specialist contractor. Whatever your construction needs, we are one of the best basement specialists in London. You are guaranteed:
Top-notch architectural designs
In-house structural engineer overseeing your conversion
All works completed to British Standard 8102:2009, the Code of practice for protection of below ground structures against water from the ground.
Insurance and Guarantees: DoBuild holds public liability insurance, and an all-risks cover, to protect you and our builders. We offer a 15-year warranty on all structural work.
Integrated, in-house team working closely together
Broad expertise bringing cost-effective, optimised design
Detailed cost breakdown
Appropriate planning application from experienced hands in basement conversion in London
Expert project management: on-time delivery, and resource optimisation
A high-end product at a competitive price

Basement Design
In-house structural engineer closely involved in all technical aspects of your basement conversion design
Creative concept design
Professional architectural drawings
Hassle-free planning permission
All your building registrations done for you.
Build Phase
Most reliable basement conversion contractor in London
Structural professionals to oversee your project
Only the best hands at every stage.
Project Management
Professional project management is absolutely crucial to success. With DoBuild, your basement conversion project will have a dedicated and experienced project manager who will be your key contact throughout. He will be responsible for all aspects of your project, from delivering the design and scheduling, to supervising the works. You will be able to meet him regularly on site and communicate with him online. You can be sure you have:
An Expert who always takes the initiative in handling tasks to oversee your project
Effective time management, ensuring every aspect of your project is delivered on schedule
Proper finance management to ensure you get the best service
Appropriate health and safety protocols in place
Transparency
Stay in charge and monitor your project online:
Follow the on-site progress of your project through videos and photos as they are updated each week
View milestones and percentage of work complete
Monitor cashflow.
Site Visit
We offer a cost and obligation-free consultation and evaluation. This includes a site visit to evaluate the possibilities of the site and learn more about your vision and what you want from your project. You can let us know exactly what you want in terms of function, themes, colours, features and layout. You will have the opportunity to browse our portfolio of completed projects in London to help crystallise your ideas. We'll discuss your budget and any relevant planning laws and talk you through the process involved so that you can make an informed decision on whether to go ahead with the project.
Surveying
Before we get into the design stage, we will need to conduct surveys of the site. These will inform the technical side of your basement conversion and may well need to be included with the planning application. Common surveys include:
Topographical survey – gets exact site dimensions.
Drains survey – establishes where drains run around and under your house and garden and their impact on the planned basement construction. In some cases, it may be necessary to gain a Build-Over Agreement from your water utility provider.
Arboricultural survey – investigates trees in your and neighbouring gardens to see whether a basement excavation will affect their health. It also identifies any trees that fall under a Tree Preservation Order.
Geo-technical survey – examines the soil structure down to the depth of the excavation and reports any potential issues which could arise regarding the height of the water table.
Flood risk assessment – where applicable.
Design Brief
At this stage, our architect will begin producing concept designs and sketches to bring your ideas to life. Ceiling height and natural light are crucial to delivering a basement space you actually want to use. There are various traditional ways to introduce natural light into your basement conversion. Our architect will talk you through these as well as some ingenious modern solutions. Now you can make choices of materials, fixtures, fittings and finishes. You'll also have the opportunity to see what the design will look like in 3D and experience what the space will feel like in a virtual 3D walkthrough. If you see something you would like to change – no problem! We will work on the designs with you until you are 100% happy.
Planning Permission
As one of the leading basement conversion contractors in London and the Greater London area, we understand the planning process inside-out. We will advise you of any restrictions relating to your house or area at the outset and these will inform the design of your basement conversion. We will submit all the necessary documents and drawings to your local council authority on your behalf.
Estimation and Budgeting
Once the design and finishes are agreed, our architect will produce all the technical drawings for the build and our quantity surveyor will cost up the project for you. You'll receive a guaranteed, fully itemised, fixed-price quote.
Construction
To ensure a seamless build, your project manager will draw up and manage a detailed program so that the right people, tools and materials are on-site at the right time at each stage.
Handover and Close out
Once the build is complete, our team will go over it with a fine-tooth comb to ensure that everything has been finished to the highest standard. Now you can enjoy the realisation of your vision – engineered to perfection and delivered on-time, on-budget and defect-free.
HOW MUCH DOES A NEW BASEMENT COST IN LONDON?
The cost of a basement extension or cellar conversion will very much depend on what is already there and what you want from the space. Below is a general guideline to what you can expect to pay for a basement conversion in London before fixtures and fittings.
If there is adequate headroom, converting an existing cellar into extra living space would cost roughly the same as a simple loft conversion – around £1,500–2,500 per square metre.
If the floor level needs to be lowered to increase headroom, you will need to have the extra depth excavated and the house foundations underpinned, which could come in at around £3.000-4,500 per square metre.
Where there is no existing basement, digging new basement space and underpinning will come in at around £3,000-4,000 per square metre.
For a new basement space beneath your garden, you can expect to pay in the region of £2,500-3,000 per square metre.
Creating a new lightwell will cost you between £8,000 and £12,000
Creating a separate external access will cost roughly the same as a lightwell.
In addition to the construction costs you will need to pay engineers' fees and fees for planning application, building regulations application and party wall survey (if applicable) which will all add about £3,000-5,000 to the cost of the build
All works will be subject to VAT at 20%
You can learn more about the basement conversion costs in London here.
FACTORS WHICH CAN ADD TO THE COST OF A BASEMENT CONVERSION IN LONDON
Drains beneath your house which need to be diverted
Difficult ground conditions such as clay, sand, marsh or made up ground
High water table
Poor site access
Concrete rather than timber subfloors
CASE STUDY
Natural light pours into this space thanks to carefully positioned skylights. The light is maximised by the dazzling white finishes on walls and ceiling, leaving this subterranean space feeling airy and bright. The pale palette is complemented by warm natural wood floors, textured textiles and a bright pop of blue from the wall art, creating a space which is bright and homely. The recessed lighting can be dimmed to transform the space into a stylish home cinema.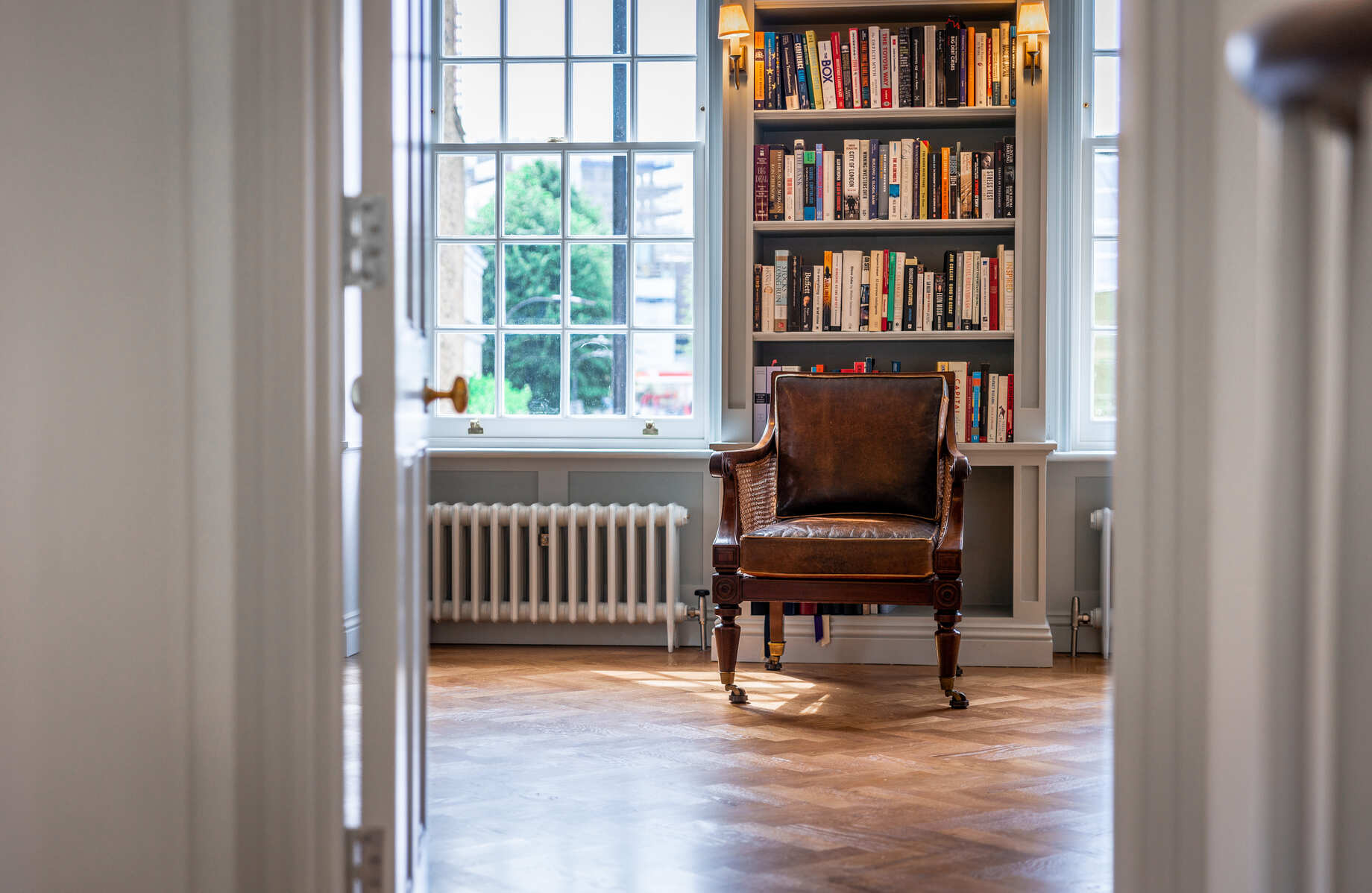 About your project
Should you wish to talk to us about an upcoming project, we would be delighted to hear from you
email us